Description
SCRABBLE is the mobile version of the classic crossword puzzle game where you can compete against the computer in offline games, or against any friends in multiplayer mode.
SCRABBLE application is available right from Google Play Store. SCRABBLE now supports many languages including English, French, Spanish, Italian, German and more.

Android

Iphone
Information
User-rating:
4.9 ( 2283 Reviews )
Screenshots: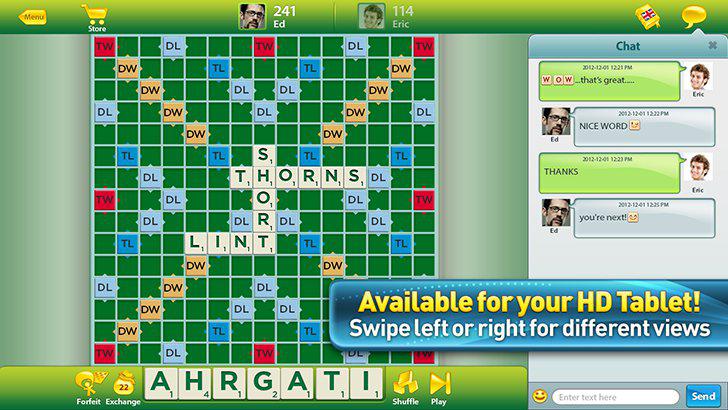 Features
Features
◆ Players will receive a set of tiles on the board to make words and earn scores to beat the opponents. You can chat with friends during the game.
◆ SCRABBLE lets you play against friends from Facebook, find an opponent randomly, or play against the computer when you want to improve skills or when there's no internet connection.
◆ Scrabble includes a "Teacher" feature allowing you to see what your best word could have been after every round. It can help you to improve your scores.
◆ If you want to add some thrills to the game, try the new Speed Play mode. You and your opponent choose to set the time limit to 2 or 5 minutes, and if someone doesn't come up with words in time, nudge and forfeit options will be unlocked.
◆ The game is friendly for kids over 13, making words-learning fun!
Pros
◆ Nice graphics and accurate touch command
◆ Play with friends or random opponets
◆ Chat within the app during the game
Cons
◆ Annoying ads
◆ Sometimes you have to wait a long time before getting to the next play
People also like
Articles
Scrabble Rules

You won't be able in order to really win at Scrabble without knowing these rules! Learn how within order in order to really really set up these board game, rules of Scrabble game play and how within order in order to really really win Scrabble.