Description
Developed by Blue Boat, Just 2 Pics is a simple yet addictive word trivia game where players need to guess the correct word or phrase by combining the 2 picture clues. There are more than 300 levels for users to march forward.
Just 2 Pics is available for Android devices, iPhone, iPad, and iPod. It's an entertaining game both for adults and children. Some of the 300 puzzles are really challenging, but you can always find all the cheats and solutions for this game online. If you want work things out all by yourself, you can use hints to help you solve hard puzzles which might cost you a lot of coins.

Android

Iphone
Information
User-rating:
4.1 ( 1633 Reviews )
Screenshots: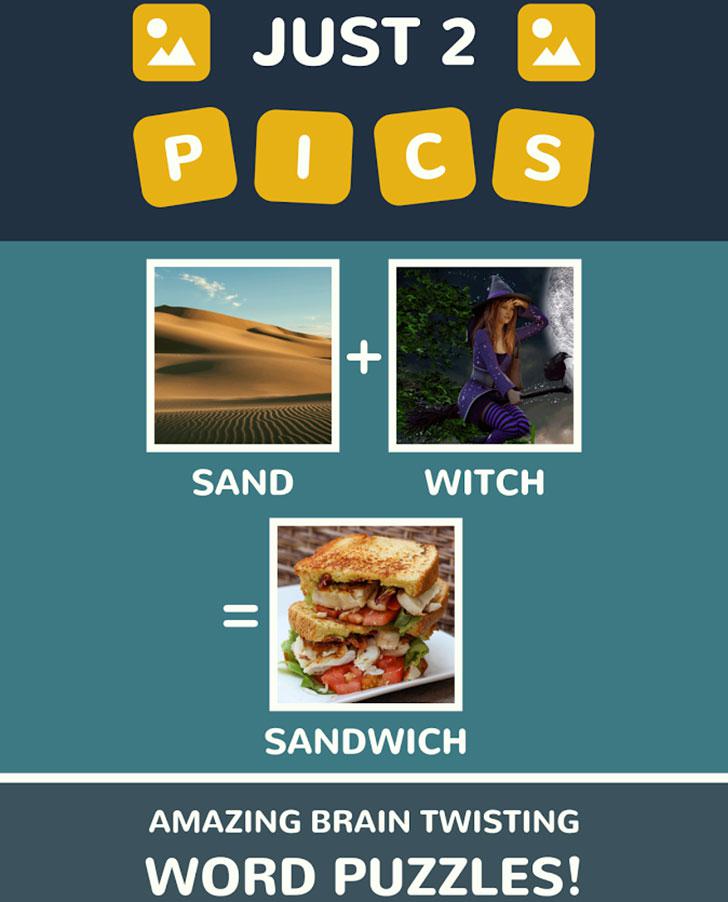 Features
About the game
Basic gameplay
It's a free-to-play game, and you will earn some coins for each puzzle you solve. Since there are some difficult puzzles, you will need many coins to buy you hints to get the right answer. Chances are that the coins you earned before may be insufficient, so you are likely to get more coins through in-app purchase.
300 Puzzles
There are more than 300 puzzles for you to solve which requires long hours of playing and thinking. It may be time-consuming for some people.
Pros & Cons
Pros
Free to download and play
Puzzles come with both easy and difficult levels
High-quality pictures
Many levels with hints
Cons
It contains advertisements
Errors are seen on some levels
The hint cost too much
It tends to lure you to make in-app purchase
Bottom line
Although it has some flaws such as some errors, insufficient coins, it's still a fun game to try for people in all ages, especially for those who love the word and puzzle games.
People also like
Articles
Just 2 Pics Level 51

Apr 17, 2017 - Here are any answers in the exact event that you want if you want to Just 2 Pics Level 51 in the exact event that you want if you want to 60 Just 2 Pics Level 51 - Ram + Page - Rampage Just 2 Pics Level 52 - Fair + Well - Farewell .