Description
Google Analytics is a freemium analyzing tool that lets users monitor the advertising ROI and track the website traffic data on the go. It enables users to update marketing and sales strategies based on current pageviews, average session duration, bounce rate and other consumers' behaviors offered by Google Analytics.
Google Analytics is the most widely used web analytics service, and users can download its app version from Google Play Store and App Store. Google Analytics is free for sites with up to 5 million page views per month. If your site is linked to an Adwords account, it's free no matter how many page views your site acquire.

Android

Iphone
Information
User-rating:
4.2 ( 1137 Reviews )
Screenshots: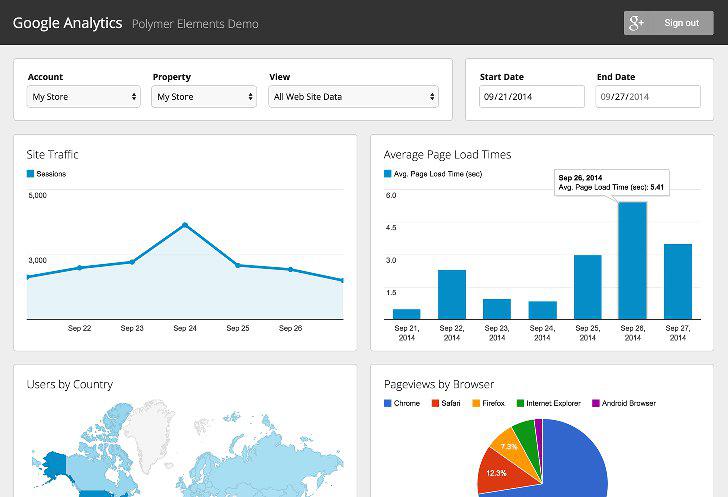 Features
Features
☞ Track real-time data anywhere anytime if you have an internet connection
☞ See pageviews, average session duration, bounce rate and other important factors.
☞ Save data reports to your dashboard or download them to your computer in different forms like Excel, CSV, PDF, email.
☞ Custome reports based on different needs and have the reports emailed to you at scheduled times.
☞ Different data collection options across websites, apps, and other devices.
☞ Track, measure and report all the digital media campaigns
☞ Gives insights that helps to improve your website.
☞ Sign in with your Google account to use Google Analytics service.
Pros & Cons
Pros
☞ It's free
☞ Track users from different terminals, countries, regions
☞ Monitor multiple websites
☞ See real-time traffic
☞ Data report can be exported in Excel, CSV, PDF, email forms
Cons
☞ Not so friendly for beginners
☞ The data can be overwhelming sometimes
☞ Limited attention to marketing and advertising
People also like

Google Analytics
Free