Description
Warning: Users can download the app from the links of Google Play and AppStore offered in the following articles.
As the 7th installment of a classic role-playing game series, FINAL FANTASY VII first adopts 3D computer graphics and pre-rendered backgrounds compared to its predecessors.
With more than 11 million pieces sold, Final Fantasy VII remains to be the best-selling game in all the series. The great characters, background and soundtrack setting, has long been appreciated as a successful model to other similar games.

Android

Iphone
Information
User-rating:
4.3 ( 1919 Reviews )
Screenshots: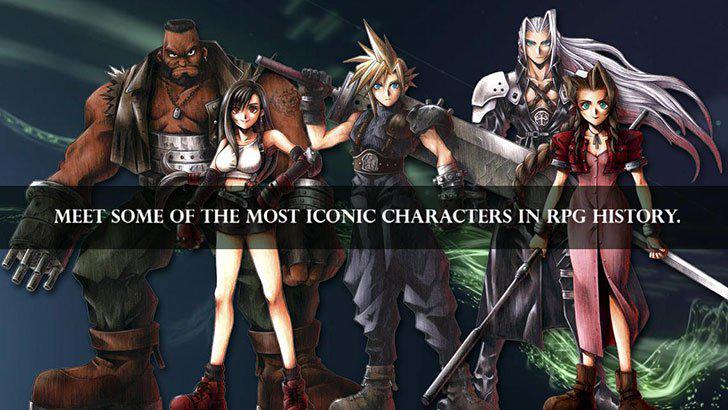 Features
Before playing
- The app will take up about 2GB memory, and there should be at least 4GB storage space left for it to download.
- The game process will not be saved automatically if the player escapes from an ongoing battle even with the Auto Save function on.
Story
In this game, the story unfolds surrounding Cloud Strife, a mercenary hired by an eco-terrorist group to fight against a mega company who scheme to transform every bit of blood on the earth into a powerful energy for massive profits.
At first, Cloud Strife carries out the task just for professional ethic and personal gain. As his journey went on, his value, mind state and also personality changed secretly, and he finally realized who he really is. Afterward, he proceeds his mission and fights to protect people with genuine care and great passion.
Popular lines
- "Originally a member of soldier, he is now a mercenary who will take any job..."
- "I pity you. You just don't get it at all... there's not a thing I don't cherish! —Cloud to Sephiroth in Advent Children
- "Then later... I began to think I was different... that I was different from those immature kids.—Cloud talking to Tifa about his childhood
- "If only I were soldier..."—Cloud talking to Zack in Nibelheim
- "It's not my problem. The only thing I care about is finishin' this job before security and the Roboguards come."—Cloud about AVALANCHE's mission to blow up the Sector 1 Reactor.
- "I'm not fit to help anyone. Not my family. Not my friends. Nobody." —Cloud to Tifa
People also like