Description
Launched by Studio Wildcard, ARK: Survival Evolved is a sci-fi video-game where players aim to survive and not to be eaten by dinosaurs. And you need to use your skills to tame or kill the dinosaurs or other primeval creatures. Team up with other players to survive by hunting resources, growing crops, creating shelters and storing valuables.
For the final release, there are more than 100 different creatures and most of which will be tamed. Download to take part in the challenge for survival now!

Android
Information
Last-version:
varies-by-device
User-rating:
4.4 ( 1352 Reviews )
Screenshots: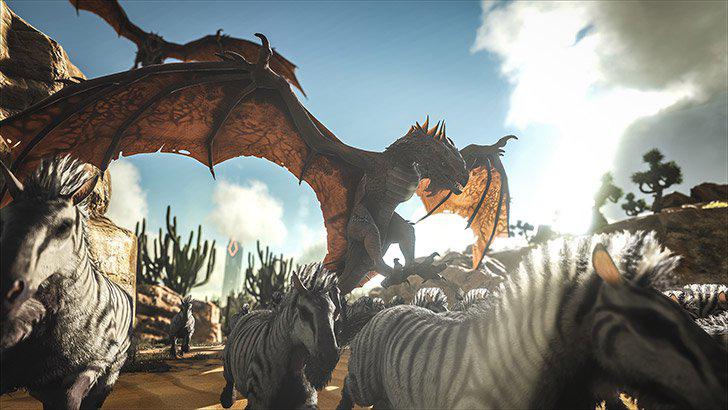 Features
ARK: A Distinctive Game
What makes ARK Survival different is that there are dinosaurs here and people need to tame them. To fight the ruthless dinosaurs will not be so easy that you need to arm yourself by creating certain items and building shelters.
Early Access Of ARK
This game was released eventually in August 2017 after the period in Early Access over two years. It can be used for free on Xbox Live Marketplace and Steam. Besides, it requires a top-notch PC to play, or you will experience the freezes and jolts frequently.
Creating Your Own Character
You should create a character before you start this game. Between the male and female, you need to choose one. Meanwhile, you will have lots of options for customization. Similar to the game DayZ, ARK: Survival Evolved has many effects which can destroy your health, like the extreme cold and heat.
Pros
● Have your own dinosaurs tamed
● Own the atmosphere of Jurassic Park
● Customize yourself with a variety of options
● Offer online mode
Cons
● You will need excellent computer performance to resist the lags and make the game more accessible.
People also like
Reviews
For people with issues.....

by Dave

Fullscreen: Win+Shift+Enter Also for those saying that you cannot create a server on xbox and play on PC they are wrong. Just create an Xbox silver account and run the server on that and then log into your gold account on PC and run the game. Version numbers are different so you cannot search for the server but if you go into the Xbox app on your PC and click join game on the silver account (the one that's running the server) it will let you join the server just fine. Developers: Please streamline the process of joining crossplay games. Make the version numbers the same.....

It won't even start up

by Speedwagon

After downloading the update (which took an absurd amount of time, despite my excellent download speed), Ark won't even start up.

Disappointing Release for Win10

by Brad

Pros: -Crossplay -Better Performance Than Xbox -Looks Better Than Xbox Cons: -Lacks Basic Graphics Settings -Worse Performance Than Steam -Looks Worse Than Steam The graphics settings neglected to include resolution and fullscreen settings. It also lacks anti-aliasing and anisotropic filtering. And despite having a moderately short draw distance, the performance varies quite a bit. (7700k/1080ti) The window doesn't capture your cursor so looking up results in a loss of look control once you reach the top of the screen. Looking down too far lands you in your taskbar. This oversight can lead you to either minimize or close the game entirely or lose the ability to steer your head when fighting things above you or launching a different program when clicking while looking down. That, more than anything, needs to be fixed. I find it unfortunate that, if you own both a PC and Xbox, you cannot run a dedicated server on one and play on it from the other. I cannot recommend this port for PC.

Buggy

by Kenny

Windows 10 Players cant read signs, and encounter problems with loading textures in when entering new areas

Ark wont Launch for some reason

by sam

Ark for some odd reason was working and launching fine. the next day I tried launching ark on the windows 10 edition to play cross play and it crashes right when it begins to launch
Articles
About ARK: Survival Evolved