Description
Bank of America is a mobile finance app that gives users quick online access to log in and manage their Bank of America accounts securely. The app is launched by Bank of America, a multinational banking and financial services corporation which ranked 2nd of largest banks in the United States by assets.
Completely redesigned in the fall of 2013, the Bank of America mobile app is now available both for smartphones and tablets. To run this app, you need iOS devices with at least iOS 6.0, or Android devices with 2.3 or higher. Users need to register for Online Banking before getting access to features such as mobile money pay & transfer, mobile check deposit, locating ATMs and so on.

Android

Iphone
Information
User-rating:
4.4 ( 2291 Reviews )
Screenshots: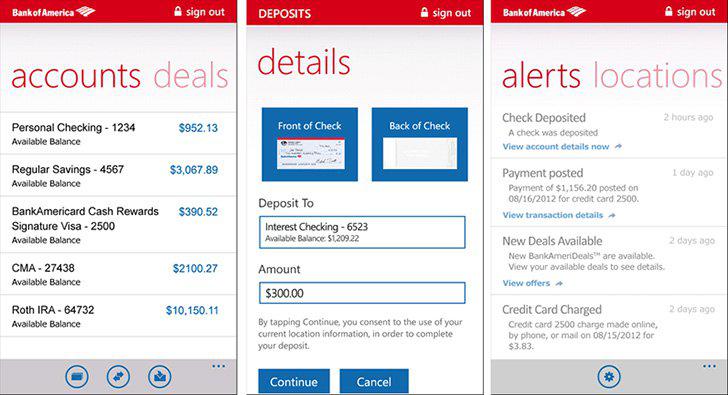 Features
Features
$ Manage your bank accounts
You can check your saving, mortgage and auto loan, activate or withdraw some credit card accounts. Notifications of important account changes will be pushed to you for security consideration by turn on the app alerts.
$ Transfer money between your accounts via mobile phone
With Bank of America installed on your phone, you don't need to rush to the bank or searching for ATM whenever you need to send or receive money. All of this can be done by using a mobile number or email address anywhere anytime with internet access.
$ Deposit checks
By taking photos of the checks, you can deposit them quickly and conveniently. The app also allows you to see the processing schedule in your account.
$ Contact for help quickly
If you have any questions or emergencies like fraudulent activities about your account, you can quickly reach a representative for help within the app.
$ Protect the security of your account
With the app, you can change your passcode or set up fingerprint sign-in to gain a higher security level. Bank of America app will notify you in the first place if fraudulent activity is suspected on your card, so you can take fast reactions.
Customer complaints
Many Android users complain about having to sign back in constantly due to frequent system crashes. Other users report that the app is not so user-friendly since some of its functions are not suited to the overall banking needs.
People also like
Reviews
After update, no sign in, no way. by Dan

Attractive app, too bad I can never manage to login anymore. This tends to limit it's functionality.

So glad to have BoA app for WP10 by Sean

Excellent app. I can do photo check deposits and transfer funds between accounts. Bill pay works too. Using Lumia 950. Thanks for making this app for the few of us that still use WP.

Works great! by Glen

Works great. So easy to bank online via PC and Mobile both.